This content contains affiliate links. When you buy through these links, we may earn an affiliate commission.
There are endless reasons why North Americans buy into the myth of the First Thanksgiving, and many of them center around elementary school education. The first problem is a lack of direction. I work in Massachusetts, an area known for its fairly rigorous school curriculum, but even here, it's usually only math and language arts that receive curriculum products. Math and ELA are also the only two things tested in a standardized way below fourth grade. As a result, science and social studies can become afterthoughts in a crowded school day. Many teachers are left to design lessons from scratch with no direction or paid time for planning.
Historically, this leads to seasonal social studies teaching in lower elementary grades. Think apples in the fall and holidays of the world in the winter. This isn't bad at face value and can be done correctly, but if it's not given the planning time necessary to develop meaningful lessons, the lessons can become fluff pretty quickly. I found myself falling into this trap often when I taught first grade. There is no way to describe the sensory and mental overwhelm of teaching in a classroom, and you can't understate how social studies is overlooked in lower elementary. A lack of teacher training and materials is a major tenant of the problem.
None of this, however, excuses the settler mentality that has led to a smiling, happy Thanksgiving story featuring healthy Pilgrims with buckle hats and ambiguous Native people wearing feathers. By removing the most important details, historical context, and tribal accuracy, the myth of the First Thanksgiving has become a lie that people use to back up claims of positive interactions between Native people and settlers. It's not only not true, but it also leads to the erasure of future atrocities stemming from Europeans taking over North America.
I don't know of a lower elementary social studies curriculum that provides a clear explanation of the historical facts around the feast where Europeans and Wampanoag people ate together. I do know, however, that publishing has taken strides to center Native voices and improve historical accuracy. Below, I've gathered a few books that add important context to the Thanksgiving story most children are taught and educate readers about specific tribes and traditions. These can be used with elementary students to make sure the viewpoint is not solely European and to help them more accurately understand this piece in a long and heartbreaking history between Native people and the settlers who displaced them.
Books About What Really Happened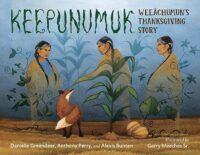 Keepunumuk: Weeâchumun's Thanksgiving Story by Danielle Greendeer, Anthony Perry, Alexis Bunten, Garry Meeches Sr.
This title talks about the historical event from a Wampanoag perspective while highlighting the importance of corn.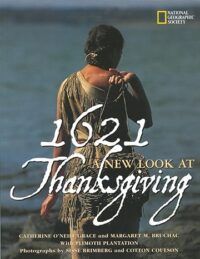 1621: A New Look at Thanksgiving (National Geographic) by Catherine O'Neill Grace and Margaret M. Bruchac
Geared more toward upper elementary and older, this collection of photographs adds important Native perspective to the first Thanksgiving.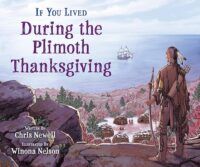 If You Lived During the Plimoth Thanksgiving by Chris Newell and Winona Nelson
The "If You Lived" series has often been written from a white, colonist perspective, but this one is written by a Native author.
Is the story doing any harm? Why does it matter?
The damage done by the myth of the First Thanksgiving is greater than the misrepresentation of a single historical event. By having a positive, whitewashed interaction be the main unit of study about Native people, children are educated from a young age to understand Native people and settlers as friends and, more egregiously, to understand settlers as kind and welcome guests. The truth is that European groups colonized North America and violently killed or removed Native groups that resisted. By the time these truths possibly emerge in higher-level history studies, it's harder for students to reconcile them with the happy story they internalized at a young age.
Additionally, a single event in the 17th century does not represent the rich and varied lives of American Indians who have fought against impossible odds to preserve their culture in the face of tragedy. Many students live in areas where Native people were generationally confined to reservations or where no reservation exists. As a result, students are left with a narrative that paints Native people as a group that existed in a historical sense and not as a modern, diverse group contributing to a society that tends to erase them. Public education does not do enough to fight this perception.
Below are a few titles that highlight modern Native people living their lives, honoring their cultures, and fighting against erasure.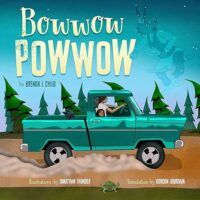 Bowwow Powwow by Brenda J. Child, Jonathan Thunder, and Gordon Jourdain
A mix of realistic fiction and dreamy fantasy, Bowwow Powwow tells the story of Windy Girl, her exciting visit to the real powwow, and her creative, imaginary daydream powwow.
Hungry Johnny by Cheryl Minnema and Wesley Ballinger
The fact that these characters are Native comes secondary to the lessons learned by an impatient child as he honors the tradition of letting all elders eat first.
Hopefully, you've found some books that can help you educate yourself or the children in your life who deserve historical accuracy. The myth of the First Thanksgiving seems impossible to rewrite, but it will start with teaching children the truth from a young age.
---
Looking for more books about Native and Indigenous people? Check out this list of middle grade novels. Happy reading!