When you're planning a trip, looking at travel insurance is usually a good idea. That said, Global Rescue isn't really travel insurance in a traditional sense. It doesn't require you to file a claim, pay a deductible or request a reimbursement of upfront costs. The services provided are covered once you pay the membership fee, so you don't need to pay anything upfront in case of an emergency.
If you're traveling to a place with fewer medical facilities, less infrastructure or a chance for civil unrest, a travel insurance policy from Global Rescue could provide help. Here's a look at Global Rescue travel insurance, how it works and what's covered if you become a member.
What is Global Rescue?
Since 2004, Global Rescue has provided medical, security and crisis management services to travelers, including things like field rescue, medical evacuation and 24/7 emergency assistance. Services are provided in the field by health care and security professionals. They also include a pre-departure destination report, which includes entry requirements, health and security assessments and required immunizations.
There are some positives and negatives to this type of coverage. Here's an overview:
Pros
Short-term and annual coverage available.

COVID-19 emergencies are covered.

No activity restrictions.

Exclusive partnership with Johns Hopkins Department of Emergency Medical Division.
Cons
Security evacuations aren't included in countries on the Do Not Travel list.

Standard travel insurance benefits such as trip cancellation, baggage loss and rental car coverage cost extra.
What does Global Rescue membership cover?
Traditional travel insurance covers you financially if something unexpected — like an overnight delay, lost luggage or a medical emergency — disrupts your trip. This is typically done in the form of a reimbursement after the fact. Global Rescue provides boots-on-the-ground help in case of an emergency, instead of reimbursing you for the cost.
For example, if you have a scuba diving accident in Fiji, contract malaria in Nigeria or break your ankle on a hike in Peru, you'll be rescued by a highly skilled team. Lose your passport or run out of prescription medication? You're covered as well.
Global Rescue provides the following services to its members:
Evacuation and advisory services.

Pre-departure destination reports.

Real-time safety notifications.

No activity restrictions.

No COVID-19 restrictions.

Security upgrade (optional).

High-altitude evacuation upgrade (optional).

Emergency assistance 24/7/365.
"Field rescue" means Global Rescue will send help if you're injured, in danger or unable to get to a hospital. This doesn't necessarily mean the closest hospital, either. If you need to go home to your preferred medical facility, it can be arranged.
"No activity restrictions" means that you can participate in high-risk sports, such as hang gliding or BASE jumping — which are usually excluded from most travel insurance plans — and still be covered. Unlike most travel insurance policies, you don't have to be more than 100 miles from home for the coverage to kick in.
If you choose to add on the security package, Global Rescue has experienced nurses, paramedics and veterans of military special operations on staff. They will bring you to safety in case of civil unrest, a natural disaster or a war if there is risk of bodily harm. High-altitude evacuation is another optional add-on that provides services to members who require medical attention above 15,000 feet.
Because Global Rescue isn't a travel insurance provider, self-arranged medical treatment or rescue services won't be reimbursed. However, you do have the option to purchase Global Rescue's travel insurance add-on, which is available through IMG. This policy provides traditional travel insurance benefits, such as trip cancellation, trip interruption, baggage delays and rental car damage and theft. It also covers medical expenses up to $100,000.
Global Rescue membership types
Global Rescue is available to residents of any country, and you can purchase it for short-term coverage or annually.
Short-term plans cover periods of seven, 14 or 30 days. To purchase an annual plan, you'll be asked for the duration of your longest trip in the coming year. Options range from 45, 90, 180 or 365 days.
Additionally, you can cover yourself or your whole family. Family memberships are extended to the primary member, their spouse or domestic partner and up to six children younger than 26.
Special memberships are also offered for students and older adults. Student memberships are available to full-time students younger than 35. Extended Travel memberships are available to travelers from 75 to 84 years old, and TotalCare Silver memberships are available for those ages 85 to 99.
Global Rescue membership cost and coverage
Here's how much Global Rescue membership costs based on various parameters, such as number of travelers (individual or family), length of trip and add-ons.
The example below is how much a Global Rescue membership would cost for a single traveler or a family without adding a security package or high-altitude evacuation upgrade.
Here's how much a membership costs for a single traveler or a family with a security package and high-altitude evacuation upgrade included.
Who is Global Rescue membership for?
Although Global Rescue advertises to leisure travelers and extreme adventurers, a membership most likely best suits adventure travelers — those who visit off-the-beaten-path destinations, participate in high-adrenaline activities and need more coverage than regular travel insurance provides. It can also be for travelers who are heading to countries that are politically unstable or lacking basic infrastructure.
But its price tag might deter casual travelers, especially families, from enrolling.
How to get a Global Rescue membership quote online
You'll need to visit the Global Rescue website to get a price estimate. On the home page, there is a form to fill out for a price estimate. Make your selections to receive a quote.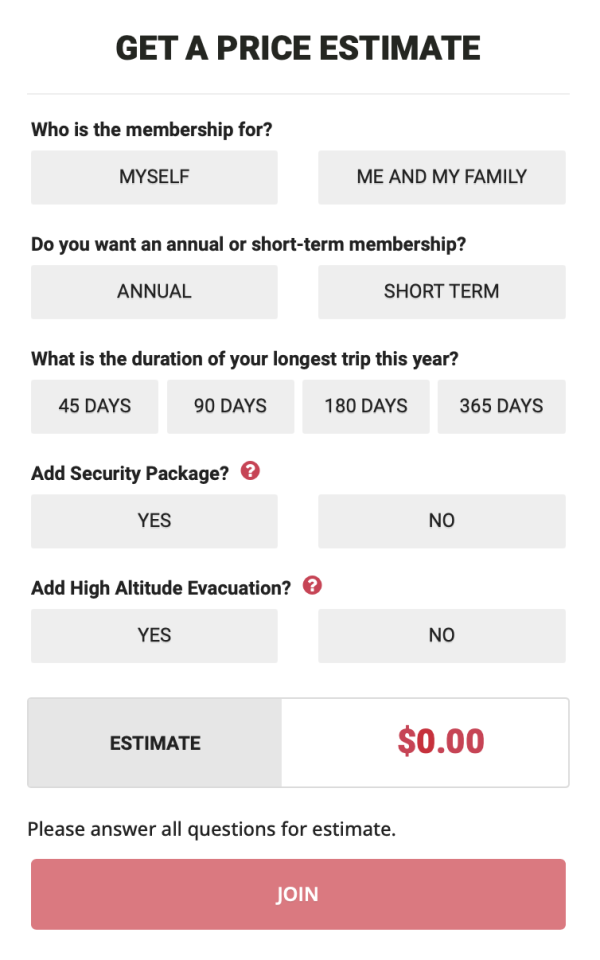 Select who the membership is for — yourself or family. Decide if you want an annual or short-term membership. Then, select the trip duration and whether you'd like to add the security package or high-altitude evacuation upgrade. After you're done, the estimate will appear immediately.
What isn't covered by Global Rescue travel insurance?
A standard Global Rescue membership doesn't include usual travel insurance benefits, such as:
However, you can get this coverage by purchasing an IMG Signature Travel Insurance plan.
Is a Global Rescue membership worth it?
Seeing that you'd have to pay a premium for a Global Rescue membership, only you can decide whether it's worth it for you and your family.
It's certainly nice to have medical professionals and former military members in your corner when things go wrong, but you'll likely have to purchase both traditional travel insurance coverage and a Global Rescue membership to cover all the bases. In any case, it could be worth looking into, especially if your travels take you to extreme destinations.
How to maximize your rewards
You want a travel credit card that prioritizes what's important to you. Here are our picks for the best travel credit cards of 2023, including those best for: